CARBON FOOTPRINT CALCULATORS
There are many calculators on the web to estimate the global warming emissions of you and your family.
The strength of the calculators is to give you an approximation of your own emissions, which may lead you to more urgency in cutting back, and humility about how hard it is to cut deeply.
Naturally all calculators have weaknesses. Your airplane flights may be less or more full than average, so they burned more or less fuel per traveler. If a calculator measures fossil fuels only, it omits the CO2 emitted while making everything else you buy, as well as methane from hydroelectric reservoirs and CO2 from mining and processing nuclear fuel. Most companies who report CO2 footprints just measure fossil fuel. If a calculator omits food, it omits the global warming from nitrous oxide released by fertilizer, and methane from animals' digestion and manure.
Calculators convert all greenhouse gases (such as methane and nitrous oxide) to the amount of CO2 which would have the same effect over 100 years. Methane has its strongest effects quickly, so it would raise the CO2e of hydroelectricity and meat if we looked at the next 20 years.
Use the best calculator you can, and know it is only a more or less complete estimate.
TRENDS IN YOUR CO2e OVER TIME
<![if !vml]>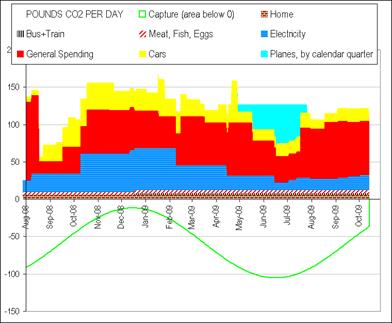 <![endif]>Two British calculators and our own draft show your trend in CO2e over time. The trend is very motivating, since it lets you see your improvements. All three have attractive graphs and easy data entry.
To start, you may want some old electric bills to get meter readings from the past, and car repair bills to get old mileage readings. The calculators also ask for airplane trips and other fuels if you have them. You get an immediate graph of CO2e by day or by month, as far back as you have records. Keep coming back to add to your graph.
CO2List.org has a draft calculator in a spreadsheet. It includes more forms of transportation than usual, as well as CO2e embedded in products and imports, and emissions from hydroelectric and nuclear sources. You can enter:
Travel by air, rail, car, bus, bicycle and cruise ship
Meter readings for electricity and gas
Heating oil deliveries
Estimates of meat and eggs
Purchases of other items, in any of 130 currencies, including CO2e from imports for 24 major importers
Size of the home and of any solar cells, to estimate CO2 used in their construction
Size of your trees and yard, to see how much CO2 they capture each year
Choice of metric or pounds/gallons/miles
It gives colorful graphs of your full CO2e emissions over time. Tell us if it works for you, what you like and don't like. This and the Berkeley annual calculator (below) are the only ones which include your full range of spending. Berkeley has better detail on sectors, but does not have monthly variation or CO2 captured by your trees and yard.
For electricity this calculator uses emissions from the current mix of power sources in any of 200 countries and territories. It includes exploring, processing, burning and delivery of fossil fuels, methane from hydroelectric reservoirs, CO2e from mining and processing nuclear fuel, and from making solar or wind collectors.
CarbonDiet Some nice features include
(A) plotting CO2e each day, though somewhat smoothed with a moving average,
(B) having national data for Australia, Canada, Ireland, UK, US, and
(C) letting your car's MPG change over time (especially as you become a more gas-conscious driver). The CO2List calculator above also has this feature.
They explain their methods and offer CO2e-saving suggestions.
They ask you to write down the gallons when you buy gasoline/petrol; rather than just miles traveled. You will want to estimate when you forget the number of gallons, or your graph will be incomplete.
CarbonAccount similarly has attractive graphs and easy data entry. However it averages all data by month, so it is not as detailed as CarbonDiet or CO2List. Also it does not reflect any changes in your miles per gallon; it estimates gasoline by the odometer readings and assumes a constant miles per gallon for the life of a car. The site asks for a UK postcode and car number (foreigners can get approximations by using postcode SK1 3EH, and car AB51 DVL from UKCar.com). They discuss future desired features. They also explain their methods.
Both CarbonDiet and CarbonAccount omit trains, buses, food, and everything else you buy.
All three use Open Source code, so you can improve them. CO2List uses Excel. CarbonDiet uses Ruby on Rails. CarbonAccount uses Django, Python, SQL.
CALCULATE BEING GOOD: CO2 CAPTURE
http://greenyard.bayercropscience.com/Bayer/OCTraining.nsf/CarbonCalculator
Bayer (like CO2List above) offers a way to calculate the carbon captured by lawns and individual trees. Multiply their carbon results by 44/12 (which is 3.67) to convert pounds of carbon to pounds of CO2e. It also calculates the greenhouse gases emitted by mowing and fertilizing. It omits manufacturing the mower, but includes global warming from nitrous oxide released by the fertilizer. Organic and synthetic fertilizer release the same amount of nitrous oxide; it depends on the amount of nitrogen added to the soil, not the source of the nitrogen.
TOTAL CO2 FOR A YEAR
Dozens of other websites do not show CO2e trends, but simply estimate your total CO2e emissions during a year. The systems above, which show your improvements, make it easier to stay motivated.
Calculators from Berkeley and Sweden use full CO2e factors which include both direct burning of fossil fuel and the rest of the life cycle, such as refining of petroleum and uranium, methane releases from gas wells, pipelines and hydroelectric reservoirs, etc. The other calculators below only include direct burning of fuel. You can compare direct fuel emissions to the more complete life cycle emissions in the table below.
Many calculators ask broad categories, not actual miles, gallons, destinations, etc. These broad categories mean you cannot see gradual results from most of your efforts, like driving better and less, lowering thermostats, fewer purchases, etc.
A good orientation to a few calculators is at http://www.grist.org/article/take-a-number/ which recommends Bonneville Environmental among the full-year calculators.
The final section of this page compares some of the calculators' assumptions.
Swedish calculator (in Swedish and English) covers "(1) home and energy, (2) travel, (3) food and (4) consumables and waste." They ask broad categories, not actual miles, gallons, destinations, etc., and report broad categories. The methodology of the English version says it covers various unspecified ecological effects besides global warming. Like the CO2List calculator, it says it covers full input-output effects of CO2 embedded in products, and the extra CO2e embedded in imports.
Berkeley calculators use US energy and consumption patterns, so they do not apply to other countries. Like the Swedish and CO2List calculators above, Berkeley covers input-output effects, though unlike them it excludes imports.
Berkeley has much more detail than most. An excellent feature is that it uses your income, household size, and US surveys to estimate your average purchases from each sector (except government), and the emissions of that sector. If you want, you can say how much your spending in each sector is above or below average for your income and household size, though the feature is hard to use without knowing what the average is in each sector. (By contrast, the CO2List calculator uses your actual total spending each month, and each country's national average CO2e per dollar, adjusted for imports and exports. Unlike Berkeley it does not adjust for the sectors you use. The Swedish calculator, like most, only has a few sectors.)
Besides direct fuel, Berkeley includes manufacture and maintenance of cars, but not construction of roads, planes, or trains, surprising since the source CO2List uses for those is a Berkeley study. They include fuel processing and construction of coal/gas/wind/hydro/solar plants (but omit all if you claim "clean energy"). They do not include transmission losses, or methane emissions from hydroelectric reservoirs (p.17), though their source does, and they seem to omit the significant emissions from processing nuclear fuel.
For food they average EIOLCA.net and CEDA without saying whether they include methane from animals or N2O from fertilizer. These are large for red meat, and if omitted may explain why they show only 4.8 gCO2/kilocalorie for red meat (p.24) compared to 10.8 in the CO2List calculator (from Weber and Mathews p.3511)
They treat all products as having the same emissions as US-made products. This probably creates an underestimate of your emissions, since many products from Canada, China and Mexico have higher emissions than US products (figures are at bottom of Countries tab of spreadsheet, based on Weber & Matthews 2007, "Embodied Environmental Emissions in US International Trade").
They also have a calculator for businesses, with much the same information. Like the household calculator it has the great feature of using broad US surveys to estimate a business' average purchases from each sector, and the emissions of that sector. It also lets you decide whether to count employee commutes as part of the business impact; commuting is always counted in their household calculator.
Note: if you control your computer cookies, you need to allow cookies from "coolcalifornia.org" as well as "berkeley.edu."
British calculator
http://calculator.carbonfootprint.com/calculator.aspx
This has much more detail than most. It covers direct fuel for electricity (any country), gas (all types), oil, coal, wood pellets, bus, train, taxi. For these it collects actual kwh, miles, gallons, etc. It also has incomplete estimates for flights, banking, car manufacture, food and other shopping, collected in broad categories. It ignores road construction and other government activities, as well as N2O from fertilizer for growing food. The output is a list of metric tonnes for each item. They also have a business calculator, and they sell CO2 software and carbon offsets.
French calculator (in French) asks broad categories of house size, car size, flights, etc., not actual kilometers, liters, destinations, etc. It does add national infrastructure. They call it a "test" not a calculator.
British site which compares 12 Ecological and 10 CO2 Footprint Calculators
http://www.esd.rgs.org/link6.html
Ecological Footprint Calculators (12)
1. Environment Agency http://www.environment-agency.gov.uk/fun/370863
2. Earth Day Ecological footprint Quiz http://www.earthday.net/footprint/index.asp#
3. Global Footprints http://www.globalfootprints.org/issues/kidsquiz/kidsquiz1.htm
4. Powerhouse Museum – Bigfoot http://www.phm.gov.au/ecologic/games.htm
5. New Scientist http://www.newscientist.com/hottopics/environment/quiz2.jsp
6. Eco Foot http://www.demesta.com/ecofoot/eng/engframe.htm
7. Mountain Equipment Co-op – Ecological Footprint Calculator http://www.mec.ca/Apps/ecoCalc/ecoCalc.jsp
8. LEAD International http://www.lead.org/leadnet/footprint/food.cfm
9. Ecology Fund http://ecologyfund.com/ecology/res_bestfoot.html
10. Ecological Footprint Lifestyle Calculator http://www.bestfootforward.com/footprintlife.htm
11. The Personal Environmental Impact Calculator http://ans.ep.wisc.edu/~eic/personal.impact.html
12. Redefining Progress http://www.rprogress.org/programs/sustainabilityindicators/ef/Footpdist
Carbon Footprint Calculators (10)
1. Best Foot Forward http://www.bestfootforward.com/carbonlife.htm
2. The National Energy Foundation – Energy to Carbon Dioxide Converter http://www.natenergy.org.uk/convert.htm
3. Global Action Plan http://www.carboncalculator.org
4. Future Forests http://www.futureforests.com/acatalog/index_world_calculator.asp
5. International Council for Local Environmental initiatives (ICLEI) – Personal Carbon Dioxide Calculator http://www3.iclei.org/co2/co2calc.htm
6. Centre for Alternative Technology (CAT) – Carbon Gym http://www.cat.org.uk/carbongym/carbongym.tpml?section=reception
7. Safe Climate – Carbon Footprint Calculator http://www.safeclimate.net/individual.php
8. Travel Calculator http://www.travelcalculator.org
9. Choose Climate http://www.chooseclimate.org/flying/mapcalc.html
10. Climate Care http://www.climatecare.org/calculator/index.cfm
US site which lists about 20 calculators
http://www.medical-assistant.net/emission-calculator
SPECIALIZED CALCULATORS
FINAL WORDS
Multipliers in Various Calculators, Compared to each other and CO2List.org estimates

Automobile Gasoline

Electricity

Air Flight, kg CO2 per passenger kilometer, Economy. Multiply by 3.5 for lb/mile

High Altitude (Radiative Forcing) Index

Class of Seat, Multiplier for Emission, Based on Seat Sizes

lb CO2 / US gallon

kg CO2 per liter

lb CO2 per kWh

kg CO2 per kWh

204 km, 127 miles1

1,001 km, 622 miles

5,001 km, 3,107 miles

17,100 km, 10,625 miles2

Economy

Overseas Business

Overseas First

Most Complete: Fuel, Vehicle & Infrastructure, from CO2List.org  (methods)

(exponential airplane formula based on data in Chester 2008)

36.1 incl. manuf.

4.3

1.80 US

0.80

0.88

0.36

0.29

0.46

3.9 only cruising altitude

1.00

2.14

3.14

Include Direct Fuel & High Altitude Effects

Direct Fossil Fuel only, from CO2List.org  (methods)

(exponential air, based on data in Chester 2008)

19.6

2.3

1.37 US

0.62

0.60

0.24

0.19

0.21

2.7

1.00

2.14

3.14

Calculators with Fairly Precise Data

(air from CarbonPlanet Ross 2007)

19.4

2.3

1.19 UK

0.54

0.45

0.30

0.32

0.32

2.7

1.00

2.10

3.40

TheCarbonAccount.com  (methods)

(air from DEFRA & Atmosfair)

20.1

2.4

1.16 UK

0.53

0.41

0.41

0.27

0.30

2.7

1.00

1.40

1.60

CoolClimate.Berkeley.edu (methods) (adds 26% for indirect fuel, 1st row uses average; 2nd row uses categories)

27.7 incl. manuf.

3.3

1.84 US

0.22

0.28

0.75

0.28

0.41

0.28

0.28

0.28

0.08

1.8

1.00

1.00

1.00

19.6

2.3

1.36 US

0.62

0.31

0.23

0.23

0.23

2.0

1.00

1.00

1.00

20.4

2.4

1.43 US3

0.65

ChooseClimate.org, only 1 flight at a time

1.14

0.49

0.35

0.33

3.0

1.00

1.49

Atmosfair  (methods), only airplanes

(fuel calculated from exact route taken)

0.25

0.30

3.0

1.00

1.88

2.50

The following use broad averages, not actual kWh, MPG, or flight length, so they are very imprecise

Al Gore's Inconvenient Truth  (methods)

(air from World Resources Institute GHG Mobile)

19.6

2.3

1.34 US4

0.61

0.43

0.16

0.09

0.05

1.0

1.00

1.00

1.00

 (air from World Resources Institute GHG)

19.6

2.3

1.34 US4

0.61

0.64

0.64

0.64

0.64

unknown

1.00

1.00

1.00

unknown

1.34 US4

0.61

0.80

1.00

0.20

0.06

1.0

1.00

1.00

1.00

1Shortest flight shown is Seattle to Vancouver, 204 km.

2Longest flight shown is London to Sydney, 17,100 km. "Most Complete" estimate for flights uses an exponential formula.

3US average is shown. EPA uses mix generated in each of 26 eGrid subregions although subregions share power widely within each of the 5 major grids.

4US average is shown. Calculators use mix generated in each of 51 states, not mix used in relevant grid (US has only 5 major power-sharing grids).

More comparisons (and graphs) are in a spreadsheet, at the bottom of the "Air" tab.
The calculators are actually misnamed. They do not estimate Carbon; they estimate CO2-equivalent, which is what you want anyway, to address global warming. The tradition has always been to call them Carbon calculators.